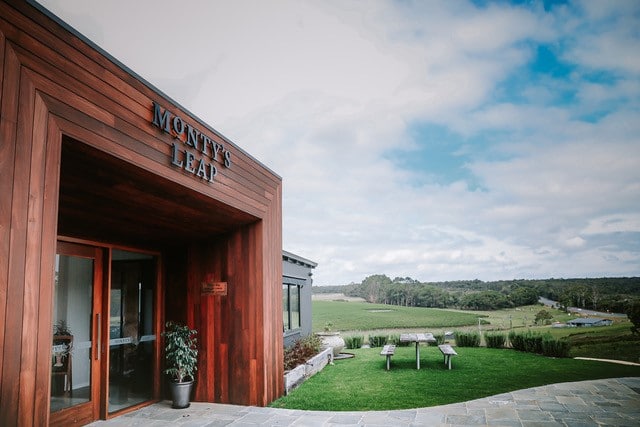 Visit Us!
Leap into a guided wine tasting at our Cellar Door
Restaurant & Cellar Door
Restaurant Wed – Sun, 11:30am – 4 pm
Cellar Door Wed – Sun 11 am – 4 pm
Wine, Food and Views worth travelling for!
A range of experiences are available at Monty's Leap; a guided wine tasting of our estate-grown wines, a vineyard board and glass of wine, or a long lunch in our restaurant, all whilst taking in the view of our vineyard rolling down to the ancient Kalgan River.
Book in advance to secure your Monty's Leap experience.
What people are saying...
"An amazing gem with a magnificent outlook, beautiful owners and bubbles to die for!  Definitely worth a visit.  Make the time and do it!"   H. Aves 2020

"Great wine, well worth checking out." C Anderson

"We finally got around to having lunch here and will absolutely be returning soon!  Beautiful building and grounds, amazingly good wine and food that can only be experience, not described.  Chef's Plate is a must, so many mouth-watering treats  10/10"  J Wheeler via Facebook

"Monty's Leap is the very best for fine food, delicious wines and the location is spectacular.  I can recommend arriving just before sunset for an amazing view"  S Leighton via Facebook

"Fantastic service at the height of peak season.
Our service staff were accommodating, vibrant and had a wonderful sense of humour under pressure. Our food was on another level. Fantastic flavours that were complex and fresh, wonderful wine to accompany and we did not go hungry!
Thoroughly recommend!" Peta Fuller via Google